when I was PLUS SIZE
Thursday, September 07, 2006
I am still looking for the pepper tickets.. the hunt is almost over cause I am sure they walked out of my room now in someones coat pocket or stuffed in smelly undies. Looking deep into my room I came across photos of ME I never wanted to see again. When I was plus size, eight months off drugs and out of an abusive relationship. I mean I guess this was a great turning point in my life, and formed the great person I am now... but I didn't want to be reminded.
So here it is.. me at my plus size.. 230lbs. I dropped all my friends in this time period..and was really depressed. Many people now when I tell them I was 230lbs are like "You were really 230lbs" isn't that what I just freaking said to you..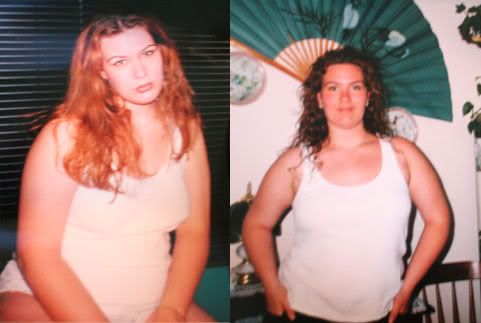 I showed my mom the photos I found an she was all "Who is that fat girl?" and I was like "MOM, its me.. " "Oh I am very sorry Carrie.. I didn't recognize you .." pffft... Thanks!! I really do look different.. kinda pregnant too.. and I apparently loved wife beater shirts.