BIG FUCKIN' TOTE BAG
Monday, September 04, 2006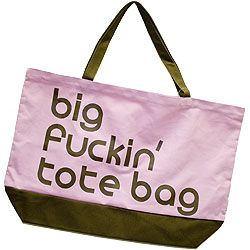 Get yourself, or a friend a BIG FUCKIN' TOTE BAG Today!!
@
GirlyTops.com
Just think of how cool you will look with this oversized bag on the first day of school, at the beach, or showing up to a girly slumber party with it full of booze.
Other awesome items sold - Trendy Tops, Beach wear, Accessories, Naughty Undies, & much more!