belated in more ways than 1
Sunday, January 07, 2007
HAPPY belated NEW YEARS everyone!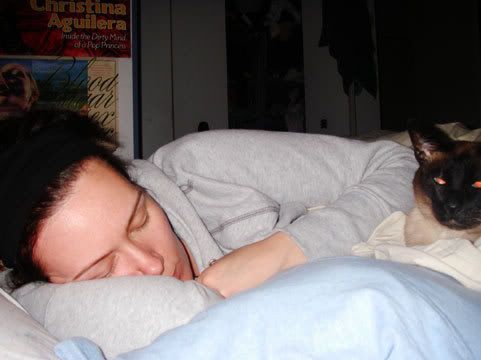 Lifes been busy, demanding and changing for me lately, the last 8 months actually. I haven't seen my friends.. had a proper nights sleep.. or been to the gym to lose the weight I have gainned again. I have been drinking far to much red wine.. I have been rediscovering myself.. I have been anti-social and this holiday season showed me a lot of true colors about people I know.. and who I don't want to know anymore. I have to let go of some people.. have already let go of some people.. and these new feelings of who I really am are starting to just allow me not give a shit anymore and focusing on myself cause in the end.. all I really have is myself... READ THE WORDS.. DONT JUST LOOK AT THE PICTURES!! Your friends really aren't your friends.. only 1-3 out of the many that claim they are.. are truely friends... I rather have no friends at all at times.. then have someone tell me they are my friend. What constitutes as a friend anyways.. this isn't no popularity contest!! I admit I haven't been the greatest friend at times to some.. but we forgive right! but never forget...
Isn't it funny how some of the people closest to us, hurt us the most.. break our trust and are will to trust again..
I use to never make promises.. and I learned to go back to that rule.. cause no one can promise tomorrow. The saying.. "never say never" is true. cause you never know what you will do.. such as keeping promises or anything for that matter. Circumstance and situation can change everything!
They say you should keep old love letters an throw away bank statements.. not me.. I cleaned out my old photo boxes of love letters, photos and journals of ex-bfs and I threw them all away. I realized some of them I never really loved or they didn't love me and why was I keeping all this shit and YES I was sober that night and not on a glass of wine in the moment of some emotional wreck feelings produced by booze. This also goes for some ex-friends. Perhaps one day I will regret this clean out.. but for a now its made me feel FREE!!!
wow I haven't felt so honest with myself in such a long time. I don't do new years resolutions and think they are just lame cause within a month and a half people give up.. but I know some things this year.. I am going to paint paint paint.. for once and for all I am going to sleep nightmare less... and I am going to be on a beach very soon soaking in sun.