Lindt
Wednesday, January 31, 2007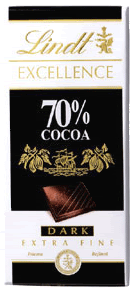 So its Wednesday night.. nothing happening.. sitting around listening to "lovers and other strangers" on 98.1.. yeah I know.. I get teased for this an always have.. pffft... I'm like an old woman... in this young body! now tonight wouldn't be complete without my Lindt Excellence 70% to fill my chocolate craving.. I am sooo addicted to this chocolate.. I no longer like milk chocolate.. bring on the dark dark cocoa chocolate.. yum..
ok so this post has no real anything to do with anything.. perhaps I'm a little lonely tonight.. meh..
I am joining my sisters gym on Saturday with her.. bye bye extreme.. so shes all excited, I think more about the free gym bag shes going to get.. we're going to workout together.. then were going to celebrate her bday with dinner.. an I am making her a yummie chocolate cake with vanialla icing with almonds on the sides.. mabye I will put some raspberries inside the cakes middle layer too.. shes so excited about the rod stewart concert tues night too. I can't lie so am I .. only because my sister gets so crazy silly like a little kid..