o.. Kayla's B-day ..o
Tuesday, December 20, 2005
Some of us decided to go to Party Packagers x-mas party for free alcoholic drinks they didn't get
(ahem.. Linda)
.. and some of us didn't go to the Party Packagers x-mas party cause we already knew it was gonna suck!!! however, five of us all agreed to go to Kayla's b-day dinner at Milestones cause we knew it was going to be good!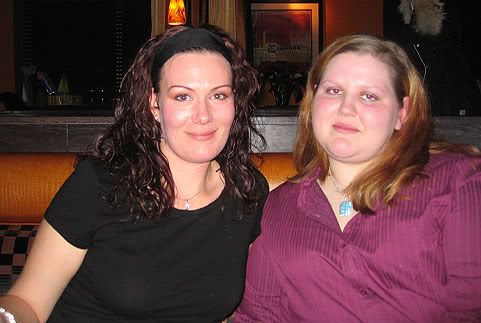 Linda loves to drink.. she loves to drink so much that she was finished her martini when the rest of us only started. Linda sitting center tries to act like she is not buzzing.. but admits she is drunk after putting her wine glass of water all over her burger an mine an Kayla's side of the table. Thank gosh the camera still works!
Samantha JONES!! - Linda - Erica
Kayla makes a wish on her sparkler candle that PP will burn down
The PP crew
I decided I had to take the girls to the house of lights.. We felt bad that Erica had been dropped off early and couldnt see the lights. Linda was just like whatever!.. Lights whatever!! when I turned the corner to where the house was.. "holy shit.. let me of the car" Later she admitted that she thought I was going to take her to see crappy street lights.. Samantha was shocked too.. she is never going out now without her camera, because camera phones just don't cut it! The owner was outside saying bye bye to some guests.. he must have known someone was drunk.. especially when she started yelling out.. "Look!! they have a back-up baby Jesus!!" Then we asked the owner to take a pic of us momos in front of his house..